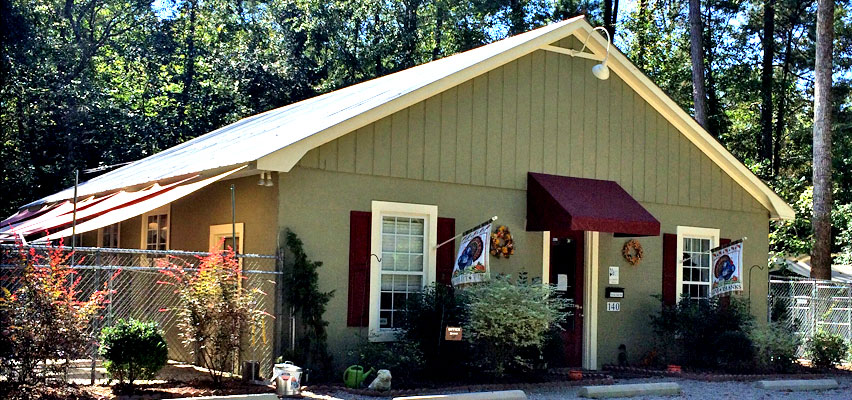 Welcome to Adam's Folly Bed and Biscuit. We are in the business of pet boarding and doggie daycare because, like you, we LOVE ANIMALS!
Adam's Folly is situated on a 6 acre naturally wooded piece of property. Our guests enjoy ALL the serene peace that rural Brunswick county has to offer.
Playtime, individual interaction, special attention to health and welfare, and lots and lots of LOVE are the foundation of our guests' stay at Adam's Folly. We provide cozy accommodations in a home like atmosphere. We truly care about our guests' health and happiness and want his or her stay with us to be pleasant and comfortable. Your precious canines and felines are not stored while you are away. They are pampered.
Our owners live on the premises and you may even see the 14 year old reading stories to our guests at bedtime or handing out biscuits. We are a SMALL facility that houses approximately 30 guests at a time. During their stay, our guests experience less stress away from home than they would at a larger facility. If our guests don't eat their breakfast or dinner, we know right away and an employee will hand feed them if necessary.
While at Adam's Folly our guests have the opportunity to play, go for a swim, play fetch, enjoy snack time, and snooze in comfort on Kuranda cots or in doggie beds. By the end of the day, our guests are relaxed, tired and happy.
We want our guests to LOVE coming to Adam's Folly Bed and Biscuit just as much as we LOVE having them visit us. Tours are available during regular business hours so don't just take our word for it. Come see Adam's Folly for yourselves.
Call or email us to reserve a spot for your best friend at Adam's Folly Bed and Biscuit. Hurry - We fill up quickly.
centrally heated & air conditioned facilities
special suites available for families
separate cat room
large separate gravel play yards - one for large & one for small guests
futons with quilts, Kuranda cots, & doggie beds available for relaxing & naps

spacious indoor/outdoor runs for larger guests
indoor living room & kitchen for our smaller guests
separate less stressful senior citizen quarters in office
interior decorated with hanging wall pictures, bird houses, animal knick knacks
owners live on premises
There is DOT construction on Midway Rd where they are replacing the bridge nearby our place. If you are coming from Highway 17 or Old Ocean Highway, do not take the detour. The construction will not affect your route and ignore any mention of a detour on the 17 side. You can come through the barricades at the end of Midway Rd and we will be on your left prior to the bridge being out. If you are coming from Southport, Oak Island or 211, your route will be affected and you must take the detour. From Midway Rd, you will take a right on Green Lewis Rd and then a left on Old Ocean Highway where the Bolivia Fire Station is, then a left on Midway Rd. At this time, you will ignore any mentions of detours and go through the barricade and we are on your left prior to the bridge being out. Be forewarned that the bridge is out until at least May and google and GPS is claiming the detour on both sides which will make you completely lap us so please do not rely on that for directions. Please call us at 910-253-3534 for directions if needed. The detour coming from the 211 side is about 4 miles and 4 minutes so it is not a significant detour.
A Walk on The Beach - $25
When boarding your dog with us choose a "Walk on the Beach". We will take your dog for a one on one 30 minute walk on Oak Island's dog friendly beaches once during his stay. When you're away, let him frolic and play in the sand and the waves to ease the guilt of leaving him behind. Includes transportation to and from Oak Island.